COVID-19 Update
Mobility Clinic Postponed
The health and safety of the amputee community, families and our employees is our highest priority.
Due to the recent NSW state government COVID-19 restrictions, we have chosen to postpone the Össur Mobility Clinic event to September. Rescheduling this face-to-face event will enable us to provide the experience that our attendees, guests and employees have come to expect and deserve, in a safe environment.
For participants who have registered for the Mobility Clinic, we will be in touch via email and SMS to update on next steps or if you wish to cancel your registration. We thank you for your patience and hope everyone is staying safe.


FAQs
​​​​​​What happens if I already registered?
If you have already registered for the Mobility Clinic, your registration will automatically be transferred over to the September dates.

​​​​​​​How do I cancel my registration if I can no longer attend?
If you are no longer able to attend the Mobility Clinic, please email [email protected] to cancel your current registration. Please let us know if you would like a full refund for your Mobility Clinic registration fee or if you would like to donate it to raising vital funds for the Limb Management Clinic at The Sydney Children's Hospital, Randwick.

Can I register for the event for the new September dates?
The Mobility Clinic registration will remain open for amputees and healthcare professionals to register.

What do I do if I booked accommodation?
If you booked accommodation with PARKROYAL Hotel, please contact Michael on 02 9689 3333 to cancel or reschedule your booking.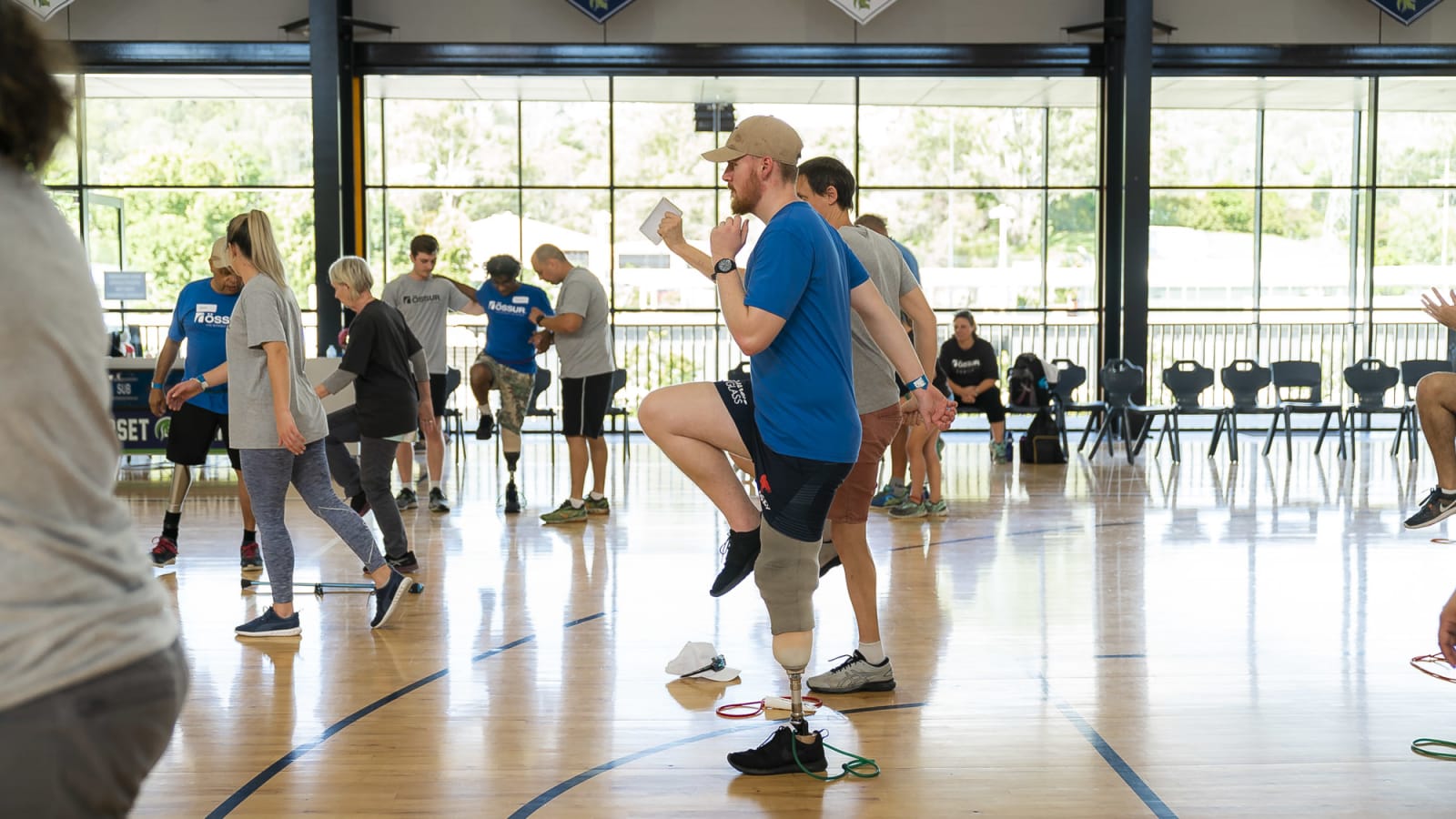 The Mobility Clinic is back again in 2021! Join us in Sydney to improve your overall mobility and have a great time with other amputees! Amputees of all ages and abilities are welcome to join.
Learn basic, intermediate and comprehensive prosthetic running techniques to improve your mobility, and help you be more active. Meet other amputees, Össur Ambassadors and learn from the experts.
Renowned expert in amputee physio and training, Cathy Howells along with a team of coaches will teach amputees how to walk, run and play sport like a champion or simply improve overall mobility. All the exercises at Mobility Clinic have been developed by an experienced Amputee Physiotherapist and Athletics Coach.
Techniques to maximise prosthetic capabilities
Running mechanics
Proper methods for improving speed and balance
Improve multi-directional mobility for a variety of recreational activities
Training routines and sport-specific exercises
Date: Monday 20th & Tuesday 21st September 2021
Time: 8:00am - 5:00pm
Location: The King's School, North Parramatta, NSW
FAQs
What is the aim of the Clinic?
The aim is for amputees to gain increased mobility on their prostheses, through exercises and activities designed to increase confidence, balance, and strength.
Are there any activities or presentation that are tailored for professionals working with amputees?
The Clinic features presentations from our expert coaches Cathy (physiotherapist), David (prosthetist), Brett (running coach), Shail (paediatric physiotherapist) and Don (Paralympian). These presentations are for all attendees but supply clinical information for the attending health professionals. The Clinic is a "hands-on" learning experience for professionals. You are paired with an amputee for the clinic and will assist them in all aspects: running, exercises, mobility activities and sports. Amputees attending the clinic are of all ages, abilities, and levels of amputation. We have had unilateral, bilateral and quadrilateral amputees attend past clinics.
The Össur Mobility Clinic 2021 has been accredited by AOPA, all attending CPOs will be awarded 14.5 CPD points.
What is the registration fee for?
The Mobility Clinic is a non-for-profit event. The registration fee is to confirm your attendance at the Mobility Clinic. All proceeds will be donated to the Limb Management Clinic at The Sydney Children's Hospital, Randwick.
What is in place to prevent COVID-19 during the Mobility Clinic ?
The safety of our attendees, guests and staff is of our utmost priority. Therefore, we require all event attendees and guests to abide by the following COVID-Safe guidelines.
l attendees and guests must check-in using the provided QR code on the day of the event.
Adhere to the social distancing rules (1.5m apart outdoors).
A limit of only 3 additional guest per attendee (children included).
Please notify the Össur team prior to the event if you are experiencing any COVID symptoms or have recently visited any of the COVID-19 Hotspots.
If you have any questions, please contact us at au.ma[email protected].
Do family and friends have to pay/register separately?
No - only participating attendees are required to register and pay. During the registration process, you can nominate the option to include family and friends who will be free of charge. All participating healthcare professionals are required to register.
What are my transport/parking options for getting to and from the event?
There is plenty of on-site parking available at the venue. Please adhere by the local road rules/speed limits and only park in marked parking lots.
Where can I book nearby accommodation?
Discounted accommodation rates are available at The Park Royal Parramatta for Össur Mobility Clinic attendees.
To lock in your discounted accommodation, please contact Michael Donelan directly to make a booking at The Park Royal, Parramatta.
T: +61 2 9685 0348
E: [email protected]
What can I bring into the event?
A T-shirt will be provided for all registered attendees. Please wear comfortable, sport appropriate clothing. Lunch and water will also be available for registered attendees throughout the day.
All guests are encouraged to pack light refreshments and lunch as we can only guarantee lunch for registered attendees. 
What's the refund policy?
Attendees can receive refunds up to 7 days before your event start date.
If for any reason you are unable to attend the event, please contact us on Össur Australia on 1300 123 268 or [email protected].
Do I have to bring my printed ticket to the event?
No, this is not required. You will need to register at the start of both days at the registration desk.
What is the Össur Social Event?
The Össur Social Event is designed to maximise the opportunities to mingle with your fellow Mobility Clinic attendees without being interrupted by having to do push-ups or clinic presentations.
Please secure your ticket during registration.
How can I contact the organiser with any questions?
For any enquiries regarding registration or clinic information please contact Össur Australia on 1300 123 268 or [email protected].
To keep up to date on the latest information regarding Össur Mobility Clinics, please leave your details so you can be added to our events mailing list.
Watch what it's all about!
---
More mobility clinics!
Learn a new sport and get active with Össur's specialised Mobility Clinics. We host a series of Mobility Clinics throughout the year to introduce amputees into recreational sports such as golfing, surfing and skiing/snowboarding.
Mobility Clinic experiences
---
Read the stories and experiences from our Mobility Clinic attendees.